Experience Management for Professional Staffing
Get real-time, actionable insights that help you attract, retain, and redeploy the best professional talent. Stay connected throughout their journey and turn happy talent into a referral source.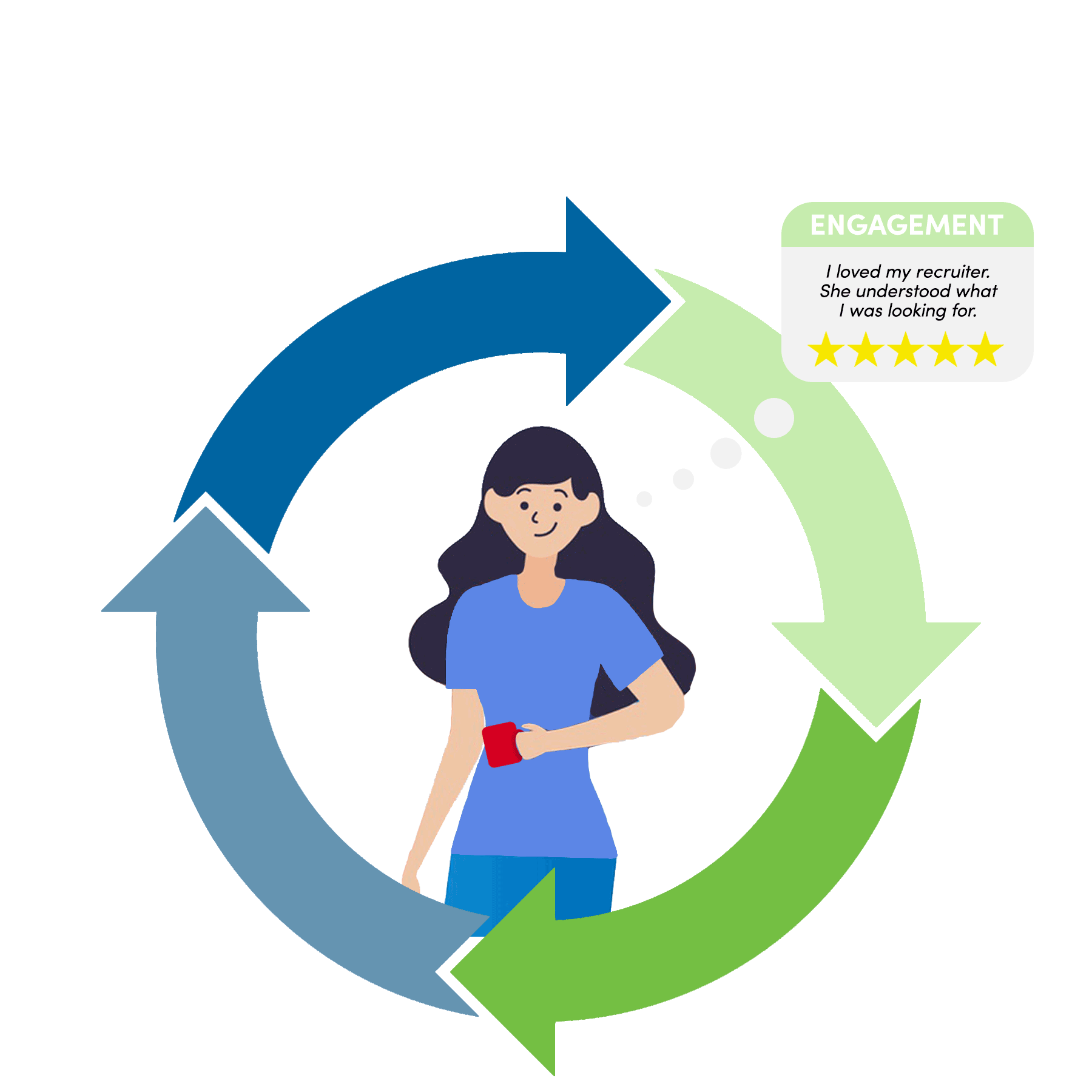 How Great Recruiters Helps Professional Staffing Firms Grow
REAL-TIME INSIGHTS DOWN TO THE DESK LEVEL
Don't wait until the end of the quarter or year to get aggregated NPS feedback. Get regular feedback at the desk level to resolve issues fast, collect testimonials at every step of the process, increase referrals and get recognized for being great.
EASY SETUP AND ROLL OUT
Our team will have you up and running within 48 hours of creating an account. It's fast, easy, and incredibly powerful. 
CELEBRATE TESTIMONIALS AND AWARDS
Use our review templates to collect feedback and testimonials from clients, candidates, and staff. Easily turn testimonials and earned awards into marketing materials to showcase your greatness. 
INCREASE REFERRALS AND CALLBACKS
Everyone wants to work with the best recruiters. Especially in the professional staffing industry where the talent pool is limited. Having great reviews, amazing relationships, and a solid referral process matter more than ever.
IMPROVE, MOTIVATE, RETAIN
Learn what is working and what isn't in real-time. Decrease onboarding and training time by having a proven playbook. Leverage the team and individual dashboards to motivate and gamify for your team.
Tap in to the simple and powerful way to:
Get Reviews, Build Trust, Win More.
Our Most Impactful Software
Mullady V.
President of Marketing & Strategic Growth
Staffing and Recruiting
(51-200 employees)
"Great Recruiters empowers our performers and revenue drivers to build a pipeline of referrals and candidates based on objective, aggregated, real time customer reviews. It is exceptionally easy to use and simplifies a part of the recruitment process that has been antiquated in our industry for quite some time. It elevates and supports our culture by enabling our colleagues to be drivers of their own success."
Exceeded Expectations on Day 1
Rose F.
Senior Vice President
Staffing and Recruiting
(1,001-5,000 employees)
"Our primary goal was to increase referrals and we saw that happen on day one. I knew that GR would fit into our culture and the team would love it. What I was pleasantly surprised by were the newer recruiters. They had 5 star reviews on day one. That showed us we hired and trained the right people for our clients. I read every review and that has made me a better leader by being present to real time feedback. Reviews are shared across the company and it is uplifting for everyone."
Control Your Reputation
Matt D.
Director
Staffing and Recruiting
(11-50 employees)
"Recruiters suck. Right? Wrong – Well, kind of. Unfortunately, the stereotypes exist for a reason and there are many for whom they are accurate and deserved. But not all of us. Some of us take a great deal of pride in doing the job to a high standard. Great Recruiters helps us to rise above the noise by providing realtime reviews that allow our customers to engage with us with confidence. "
Low Effort, High Reward
Liah, V.
Marketing Director
Staffing and Recruiting
(51-200 employees)
"Getting consistent feedback is hard to do. With GR, we get a really high response rate, which means we generate a huge amount of reviews. GR gives us access to perspectives on our recruiters that are not only authentic, but also really helpful in a lot of ways. From a marketing perspective, the reviews are gold. GR would be worthwhile even if it required a lot of work to maintain. But the beauty is – the seamless integration with Bullhorn makes the process completely painless for the team."
Love This Platform
Sharmeda J.
Travel Recruiter
Hospital & Health Care
(1001-5000 employees)
"I love that my current, future &/or past candidates are able to provide me feedback regarding their experience with me. Platform is very easy to use, & the functionality is great. Customer service is phenomenal. I provided feedback on the site directly to the company about an issue I was having, & they were able to resolve it within a few hours."
The Easiest Way to Level Up
Talia H.
Sales Coordinator
Staffing and Recruiting
(11-50 employees)
"From the first meeting/demo to weekly check-ins, my overall experience with Great Recruiters has been and continues to be phenomenal! They are clearly passionate about what they do and it shows. I learned about them through a staffing friend and would highly recommend them to anyone looking to level up and gain insight."
See More Customer Reviews